*** Auction Update ***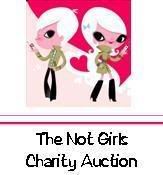 It's on
! Right now, I'm doing well, but my local blogger friend
I-66
is only $5.00... Come on, girls, we gotta do better than that. I want to see bidding wars and catfights. Tearing at each other's clothing is highly encouraged, but biting, hair-pulling, and other dirty fighting tactics are frowned upon.

**********
A startling new disease has been discovered, affecting scores of young people nationwide. It infects women at a higher rate than men, but if you are single and have internet access, you are at risk.
It's called Online Dating Sydrome (ODS), and it could completely ruin your chances of finding a rewarding relationship.
ODS is characterized by a fascination with the sheer volume of attractive members of the opposite sex who are looking for love online, coupled with a tendency to grossly overvalue the thrill of the unknown above making a connection with a known entity. Patients exhibit relatively low standards for a first date with disproportionately high requirements for a second. They seem to believe that every potential date could be the 100% perfect partner and forgo a second date if the slightest flaw is exhibited on the first one. If no flaw is present, the patient will make one up in order to avoid a second encounter. The root cause of the patient's dating appears to be to boost their own ego through high volumes of romantic attention, instead of to find a potential mate. ODS most commonly effects patients who are recently out of relationships, although people new to online dating are also at high risk.
The negative effects of ODS often take a serious toll on a subject's life in many different ways. Their friendships suffer because they spend more time with total strangers than they do with people who know and care for them. Patients are less productive at work because they have to keep a constant eye on their email in order to avoid missing an opportunity with a new suitor. Subjects also seem terminally unhappy with thier romantic lives -- although it's fun to go on lots of dates, the lack of any semblance of a deeper romantic relationship often leaves them feeling empty and alone. Because they fill any empty space in their schedules with new dates, patients deprive themselves of "me time" to relax, decompress, and process the normal stress in their lives, leaving them harried, frantic, and wound tighter than a fundamentalist's asshole. They deprive themselves of necessary sleep by staying out late nightly on the latest date and getting up early to fulfill their professional duties.
ODS is currently infects as many as 1 of every 5 online daters (1 in 10 males and 2 in 5 females). Here is a simple quiz to see if you may need treatment:
1) Do you check your email more often than every 3 hours (if you are a blogger, disregard this question)?
2) Do you go on more than 2 first dates per week?
3) Is your second to first date ratio lower than 1 to 5?
5) Do you have enough potential dates that you can't keep them straight without the aid of organizational tools (spreadsheet, descriptive nicknames, taking notes, etc.)?
6) Do you find yourself passing up second dates with promising suitors because you simply don't have time (yet you have time for the new first date you have scheduled that night)?
7) Do you ignore potential red flags such as stalkerish behavior, conversations all about an ex, or narcissistic tendencies prior to the first date and go anyway?
8) Do you take pride in telling others how many people you're "dating"?
9) Do you go on first dates in sweats because it's not worth the effort of making yourself up?
10) Finally, have you ever accidentally called a first date by the wrong name?
If you answered "yes" to more than one of these questions, you may have ODS, and you should seek diagnosis and treatment from a professional immediately.